Practical Norman Sword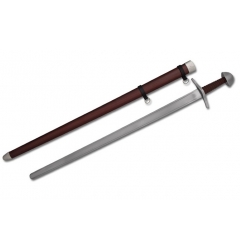 Product Code:
UA SW-003
Reward Points:
0
Availability:
In Stock
Price: $300.00
Ex Tax: $300.00
This product has a minimum quantity of 2
We are proud to offer Military Swords - Buy Military Sword and Sword Knots Online from your Home or Office - We can also supply custom swords in bulk quantity in best prices
An important addition to our European practical line is the Practical Norman sword, based on a classic 11th century pattern popular during the Norman Invasion of Britain. The high-carbon deeply-fullered blade is light and well-balanced, with the wide edges required by the re-enactment community. The guard is wider than that of the earlier Viking designs that preceded this pattern and the pommel is of the "tea-cosy" type The grip is grooved and leather-wrapped and the scabbard is left plain for owner decoration.
Specifications
Overall: 36"
Blade Length: 30"
Weight: 2lb 5oz
Specs will vary slightlyfrom piece to piece.
Key Features
Made for the re-enactor
Authentic look and feel
Complies with safety requirements
Write a review
Your Name:
Your Review:
Note: HTML is not translated!
Rating:
Bad
Good
Enter the code in the box below: